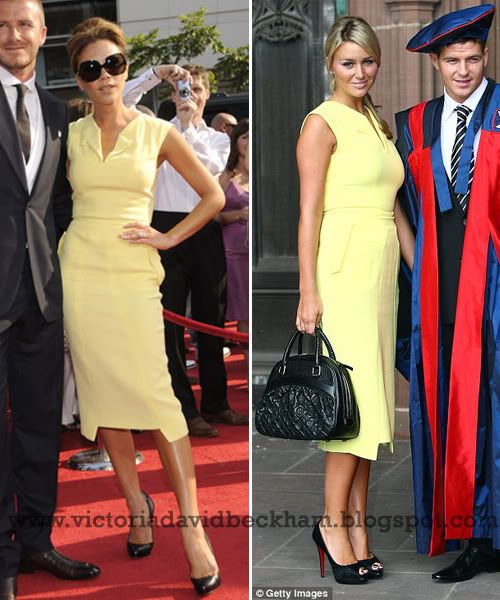 OH NO SHE DIDN'T.
Victoria Beckham will ALWAYS be the Queen WAG. None of the other WAGs can compete.
Even though Victoria is in the US, they are
STILL
copying her style.
Victoria Beckham first wore this stunning primrose yellow
RM by Roland Mouret
dress to the ESPY Awards a few weeks ago.
Alex Curran is the wife of Liverpool Football Club midfielder Steven Gerrard, wore the same dress today when she attended her husbands graduation ceremony in Liverpool, as he collected his university honorary fellowship for his contribution to sport.
Easy win for Victoria, but I bet she is laughing her ass off at Alex's attempt to copy her style.
Victoria has the better looking husband too.
*WAGs (or Wags) is an acronym used particularly (but by no means exclusively) by the British tabloid press to describe the Wives And Girlfriends of the England national football team. It came into common use during the 2006 World Cup, held in Germany, although it had been used occasionally before that.