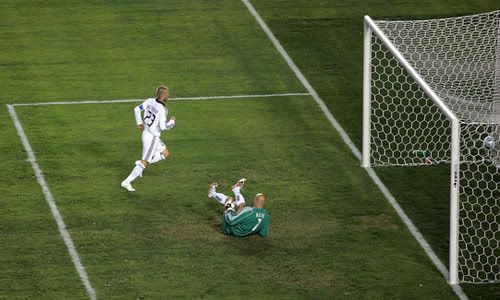 Adam Cristman scored twice (33rd and 37th minutes) in the first half for New England to defeat LA Galaxy 2-1 in a battle of MLS conference leaders.
David Beckham produced his fifth goal of the year in the 66th minute for the Galaxy.
The game was said to be very poor and the post-game fireworks show was the main thing that entertained fans at Home Depot Center on Friday because apparently the Galaxy barely put in 45 minutes of effort in front of 27,000.
They were dominated in the first half before regrouping in the second when forward Landon Donovan, who missed two days of training with the flu, entered the game and set up a goal.
"Maybe it's the belief,"
David Beckham said after the game.
"Maybe it's down to a lapse in concentration."
Of course Victoria was there to cheer on her man.
Source