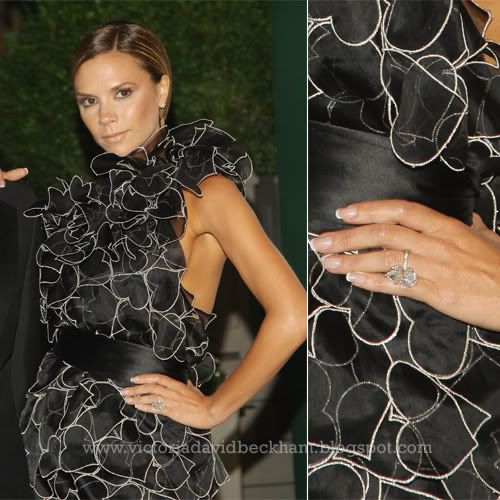 Here is a cute article by Jane Larkworthy of
W Magazine
about Victoria Beckham's ring.
"Working in this industry, I've seen girls flash some major diamonds. Even a three-carat engagement ring hardly gets a second glance around here. But yesterday, I held in my hand the biggest, blingiest ring I've ever seen--Victoria Beckham's ring.

The occasion was a little press event that Posh hosted for the launch of her and her hubby's latest fragrances,

Beckham Signature For Her and For Him

. When I innocently commented on how striking her ring was, Posh promptly slipped it off and passed it all around for us to ooh and aaah over. Which, of course, we did. The stone--I'd venture to guess it was at least six carats, or larger than a jumbo almond--is set in platinum, with a not-so-subtle pave "V" and "D" on either side.

Posh herself was dressed in a

Prada

skirt and sleeveless

Prada

blouse, which showed off her twiglike arms. On her feet were killer

Alexander McQueen

stilettos. She had excellent posture and was, as expected, quite tan. It was, I should add, one of the best faux tans I have ever seen. ("I don't go out in the sun," she told us).

When asked about life in the States, she said, "Honestly, I shouldn't say this, but I don't think we've ever been happier than we are now, living in Los Angeles." So, does she drive a hybrid? "Well, no," she responded, adding without hesitation, "We drive a Bentley."

Victoria Beckham in a hybrid....LOL. I love her response.
It looks like the
Vogue US
cover I was hoping for is not going to happen -this time - as the event was held in W's offices and W is part of
Conde Nast
.
:(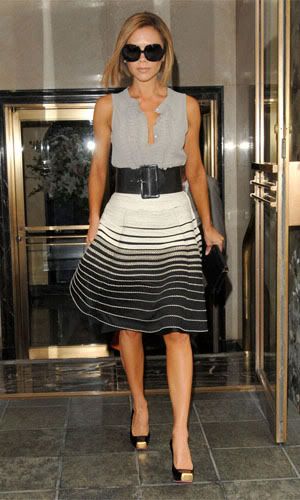 This is the Prada ensemble she refers to in the article.
Source