Alvaro Pires and Ely Allen scored their first MLS goals on Saturday as the LA Galaxy welcomed David Beckham back from international duty with a 3-2 victory over the Colorado Rapids.
David wasted no time making his presence felt on Saturday, helping the Galaxy open the scoring in the fourth minute when he sent a free kick from the right into the penalty area. Pires won the scramble for the ball and slotted it past Rapids goalkeeper Preston Burpo.
Both teams were down a man after the Galaxy's Alan Gordon and Erpen were sent off moments before the first half ended after a brief altercation.
Landon Donovan, who leads MLS with nine goals, missed his second straight league game as he prepared to play for the United States in Sunday's match against Argentina in New York.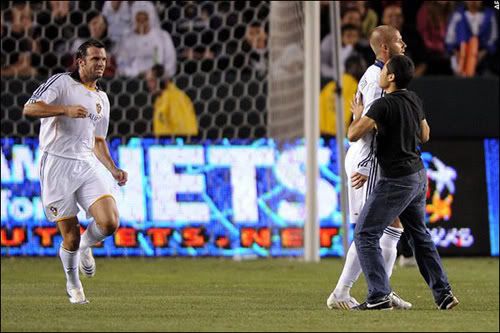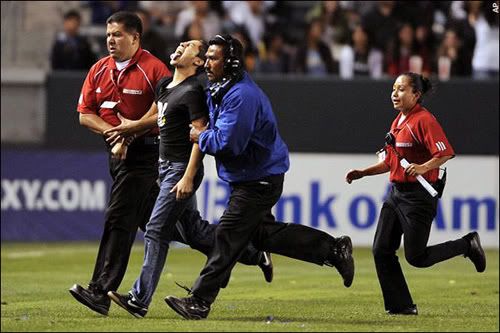 On a very sad note David Beckham was given a major scare on Saturday. David was visibly frightened as an idiot got onto the pitch and grabbed David. The so-called fan, who only appeared to want to hug David, was then pushed to the ground by Beckham's team-mate, Chris Klein, before security officials escorted the intruder away.
I can not believe that this guy to that close to David. The poor guy must have been petrified.
Source
Source