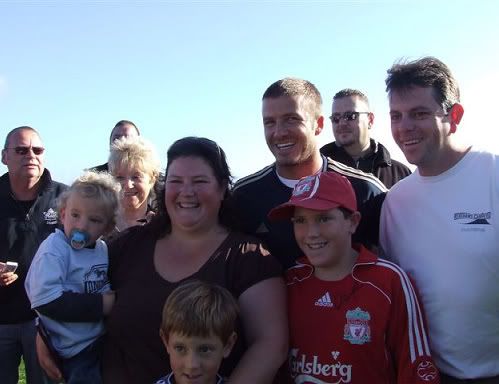 David Beckham flew in to St. Mary's in the Scilly Isles in the UK to film an Adidas TV commercial that also stars Liverpool midfielder Steven Gerrard.
Hundreds of people flocked from across the island of St Mary's to catch a glimpse of the football heroes. Some even sailed boats from neighbouring islands Bryher and Tresco to join the action.
David was happy to pose for photographs and sign autographs.
He later joined children from the Five Islands school for a kickaround, and dropped in to Radio Scilly - the smallest radio station in the world - to give an interview to presenter Keri Jones.
"He came across as really nice, a really down-to-earth guy,"
said Jones.
"But we're used to celebrities here. Jude Law comes here a lot - and he went on David Letterman the other week to say the Scillies are the best place on Earth."
"Beckham really liked the place, the sun was shining, and he said his kids would love it here,"
said Jones.
Life is just not fair. Why is David never filming an ad near where I live?
Source
&
Source