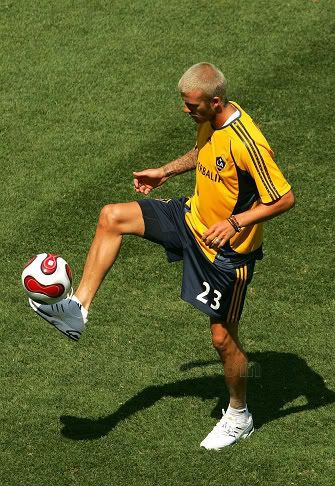 David Beckham returned to light training with the Los Angeles Galaxy today.
It is the first time David has taken part in training since injuring his knee in the SuperLiga final loss to Pachuca on August 29.
It had been expected that the injury would keep him out for 10 weeks - the rest of the MLS season - but Beckham has said he is determined to make it back before the end of the campaign.
His appearance in training comes just a day after Beckham return to California from London, where he visited his ill father, Ted.
In David's absence, the Galaxy have won three games in a row, putting themselves back on the fringes of the play-off picture.
The Galaxy have four regular-season games remaining, concluding their campaign away to Chicago on October 21 in what could be the decisive game.
Regardless of whether Beckham returns in time to help them make one final push, Friday's announcement of the England squad to play Estonia on October 13 is likely to come too soon for him.
Source