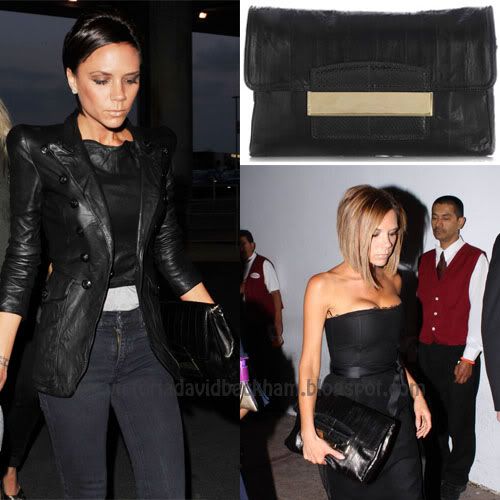 At Wembley yesterday Victoria Beckham was carrying her Jimmy Choo Carolina Eel skin bag.
From the picture above, you can see that she has carried this bag as a clutch last year, when she went to dinner with her sister.
This bag is so retro chic. It's accented with gold band closure and water snake flap, it almost looked like a vintage piece from the '70s!
The bag is still available to purchase on the
Jimmy Choo website
for £779.
Back to the Balmain jacket. On this close up picture you can see that what I thought was a leather blouse, was actually the detachable internal breast panel, which she worn under the jacket, instead of over it, like in the Net-A-Porter picture.
To see more pictures of Victoria at the game, go to
Zig-A-Zig-Ha
.