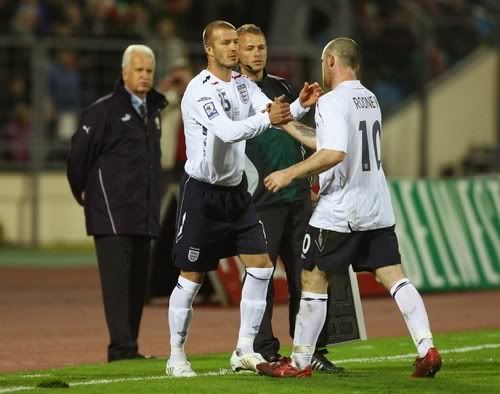 Hi everybody,
Well, it's job done as far as the England games go for this year. We've also set a record for an England team as we have never won our first four World Cup qualifying games in a row before. The great thing is the team are playing well again and without fear. We're not just beating teams by the odd goal either, but winning comfortably and that kind of confidence we can take on into the rest of the qualifiers.
Last night's game was one of our toughest matches. We didn't know too much about the Belarus team, but we did know that they are a good passing side with great support. Everyone knew their job though and went out and played another great match. Although the result is always the most important thing, it's great if you can entertain the fans as well and the manager has certainly got us playing good football.
The atmosphere was amazing and there's such a feel-good factor around the squad that everyone wants to be involved.
Today I'm back in England at Wembley Stadium where I have just hosted a lunch for 200 kids to launch my new range of foods called GO3. The meals are designed to get busy families to eat healthier and more balanced diets. As a dad myself I know how hard it can be to get your kids to eat the right things and, obviously, as a footballer I also know that you need to eat the right things to perform well, so hopefully these foods will help families take small steps to be healthier.
I hope you all get a chance to try them out…
Best wishes,
David