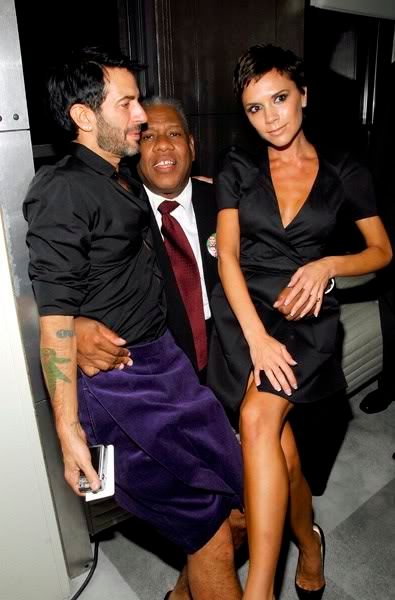 Wearing gorgeous black mini wrap dress with structured shoulders, Victoria Beckham looked stunning as arrived at a party in New York.
She accompanied Marc Jacobs in a purple skirt to the party for Jennifer Hudson's Album, held by Vogue editor-at-large Andre Leon Talley, the pictures show her having fun with the guys at the party.
Simon Doonan, the creative director Barney's, also had a photo with Victoria.
About her new do Victoria said, "I get bored very very quickly and I just fancied a change."
Her hair was cut and styled by New York celebrity hairstylist Garren, who said he wanted to play up her features.
"It was clear that we had to go short and create a new look that embraced her beauty, great personality and body," he said in a statement.
The Jonas Brothers revealed today on UK breakfast show GMTV, that Victoria told them that her boys want to follow in their footsteps become the
'Beckham Brothers'
.
"The whole entire family's amazing",
Kevin Jonas
"We got the honour to meet them at the Teen Choice Awards. We met the boys and we took pictures with them - and Victoria said that the boys wanted to become the 'Beckham Brothers'. And so we were like, "Yes!"'
Source
&
Source