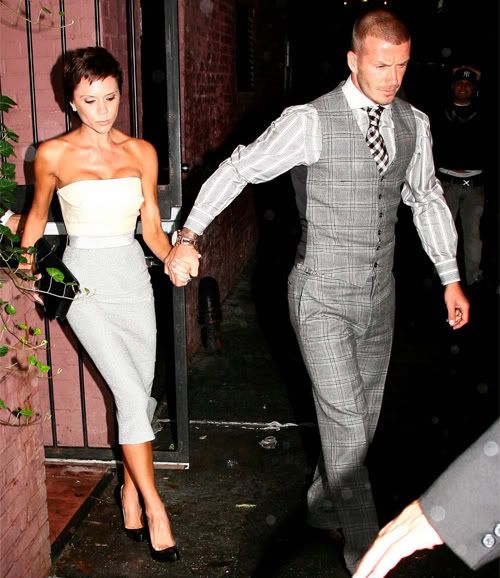 After their in-store appearance at Macy's yesterday, David and Victoria Beckham had dinner at the trendy, celebrity favourite restaurant the
Waverly Inn,
for a late night bite to eat.
They both changed out of outfits they wore to the signing - I am sure Victoria was glad to get out of those heel-less shoes. David wore pants and a waistcoat combo, that I preferred to his Macy's 3 piece suit.
Victoria changed into the same strapless dress she had worn earlier in the day to the Regis & Kelly show.
There seems to be a lot of upset by fans at the signing, as no one was allowed to take pictures of the couple, nor was anyone allowed to have anything other than the bottles of perfume signed.
I understand that the rules are there to ensure those who queued got to see them, but this for me kinda takes the fun out of the whole event. If I had queued for 5 hours, I would have wanted to have at least got my photo taken with them. A signature on a glass bottle will rub off after a short amount of time.
Source