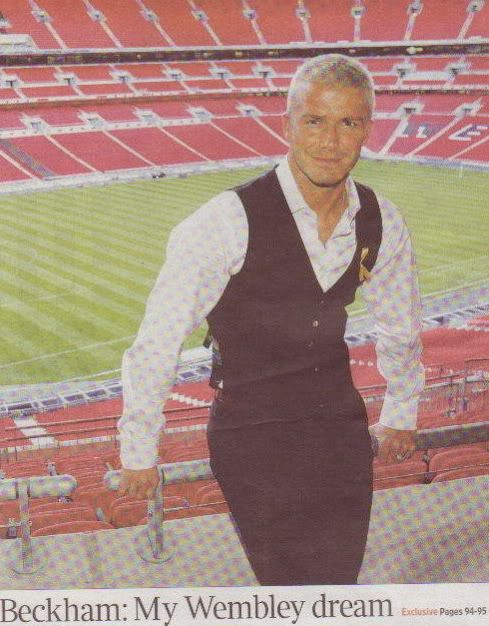 There is a great interview with David Beckham in
The Times
ahead of today's FA Cup final at Wembley.
Naturally he wants Manchester United to win the FA Cup. Becks talks about his forthcoming move to Los Angeles and also about how much he would still love to play for his country. Here are is the highlights of the interview:
On acting & botox
What about the stories that he is looking for a film role?
"No chance."
Or a recent report that he had Botox injections?
"Seriously? I would never touch anything like that."
On Sir Alex Ferguson
We've still not sat down for a proper talk and I'm not sure we ever will, but I'll only ever speak fondly of him. I never really wanted to leave United but he gave me the chance to play for the club I always dreamt about at United. I owe him so much out of my career.
On moving to LA
It is Hollywood and people are speculating that we are going to spend all the time with movie stars because we have some famous friends but it is not like that. I've got a job to do and that means mucking in with people on and off the pitch.
"I will be training as hard as I ever have done. I am not getting any younger so I have to work harder than ever. There have been high expectations of me throughout my career."
He jokes about nipping down on to the Wembley pitch for a quick kick-about just in case he never gets another opportunity.
I hope he gets to play on the new Wembley pitch on 1st June when England play Brazil. Even if it will be for the last time. We deserve a chance to see our hero play for the last time in England.
Source
&
Source