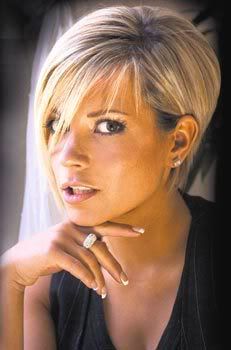 No wonder Camilla Shadbolt gets paid £4k a month to look like Victoria Beckham, she is the spitting image of her...twins if you like.
For eight years the Camilla, who is 25-year-old, has copied every style statement and haircut change, spending £3,000 a year on clothes alone.
Camilla said "During the last eight years, I've followed every one of Victoria's looks, except for the brown bob, when I wore a wig instead of going for the chop."
And, unfortunately, Camilla is not too keen on the current blonde crop.
"I liked the Pob - the Posh bob with the long strands at the front - but this style now is a bit too short."
Luckily she is a petite size eight and has not had to resort to a gruelling diet and exercise regime to keep superslim. But she refuses to slim down to Posh's teeny size six and 7st 6lbs.
Camilla like the rest of us has to make do with high street alternatives, rather than designer clothes.
A DAY IN CAMILLA'S LOOKALIFE..
8AM: Get up, put Posh together. Victoria's latest crop is low maintenance, thankfully. Have to choose from 100 pairs of shoes.
10AM: To London for a photo shoot. Could be a magazine or posing for spoof pictures for lookalike photographer Alison Jackson.
2PM: Rest, and a chance to check fashion mags for what Vic's up to - and wearing...
4PM: Shopping, Posh's favourite sport.
6PM: Glam up for red-carpet event with Becksalike Andy Harmer .
11PM: Exfoliate, tan, goodnight Mrs Posh.
Source